Frontlines
A Partnership for Good
"That's what our goal is, to just keep infusing society with the hope that rings true and who's there to provide it."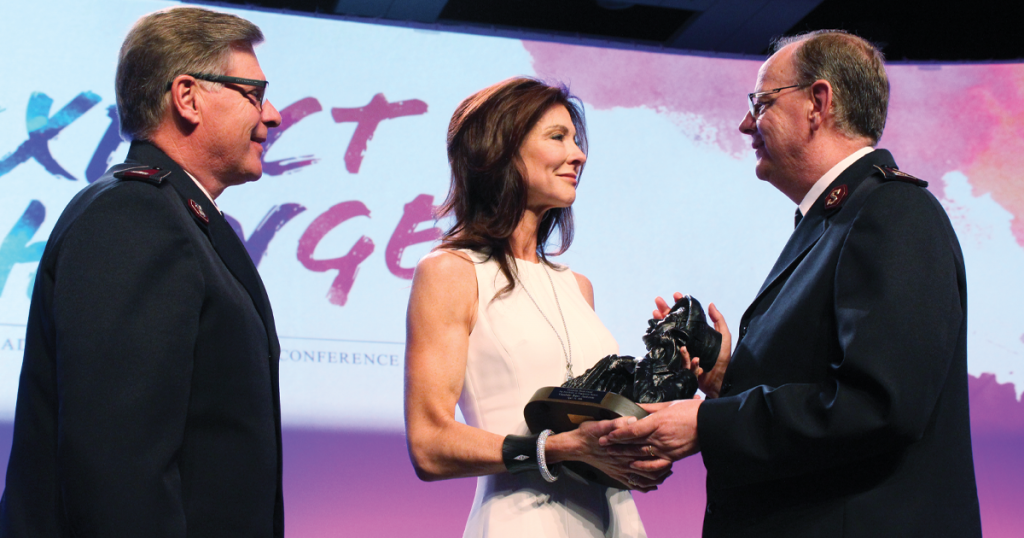 This Thanksgiving, The Salvation Army and the Dallas Cowboys will celebrate the 25th National Red Kettle Kickoff. This partnership was spearheaded by Charlotte Jones, who serves as the Dallas Cowboys' Executive Vice President and Chief Brand Officer. Since that first Kettle Kickoff, Jones and the Cowboys organization have been strong supporters of The Salvation Army, helping to raise nearly $3 billion in donations. Jones also served as the Chairman of The Salvation Army's National Advisory Board from 2010-2014. In celebration of this occasion, the National Commander, Commissioner Kenneth Hodder, sat down with Charlotte Jones to talk about the early days of this yearly tradition and how the partnership has grown.
People look forward to the Dallas Cowboys game on Thanksgiving, and they're now used to seeing The Salvation Army as a part of that celebration. How did it all get started?
It began when the Cowboys won a few Super Bowls in a row back in the early 90s. As we were celebrating some great successes, we came across a big challenge for our organization. I remember [my father] Jerry saying to me, "You know, if people are going to be as interested in what we do off the field as what we do on the field, then we have an incredible opportunity to partner with someone who is truly doing the most good in all of our communities across the country." We realized that we could use that big spotlight that shines on us to shine a light on an organization like The Salvation Army that is truly helping people in our community. That is how it began 25 years ago.
You have done so much for The Salvation Army over the years. How has the partnership evolved?
At the beginning the idea was to bring in an entertainer for a big performance in the in the middle of a ball game on Thanksgiving Day to tell everybody about The Salvation Army. Our hope and prayer has been that every time people pass the Red Kettle and drop some coins into it, it can help make an impact. From there, the partnership has evolved greatly for the Dallas Cowboys. The Salvation Army has become part of our culture, our ethos. The players, the cheerleaders, our entire organization, realize that we have a responsibility to the community and that we have an opportunity to give back. For every opportunity we have, we ask "How can we leverage who we are as the Cowboys so people can know more about The Salvation Army?" We can help more people with the money raised and truly make a difference. That has become who we are as the Dallas Cowboys and we wear that Salvation Army shield every day.
I think of all the lives that have been changed thanks to the generosity of the American public and the Army's association with the Cowboys. I know our association has had an impact upon your family as well. Tell us about it.
It's so rewarding to be able to look back and think you've made a difference. Every year we have a goal of going to the Super Bowl. Sometimes we fall short, but we have a bigger purpose—to make an impact and make a difference. When I was in my 20s, it was about making a difference in my community. What I didn't know was that it would make a difference in my family. My children grew up with The Salvation Army. they were bell ringers before they could walk. It has been rewarding to see that sense of stewardship and having a servant heart passed on to all our family members and throughout our organization.
What part have you played in this partnership?
It's not just me. It is certainly my parents, Gene and Jerry. I know they wake up every morning and their thought process is "This is what we're doing today. How can we use it to make an impact for the Army?" We are always your greatest ambassadors because we lie awake at night thinking about what we can do to raise awareness and money for The Salvation Army so you can help more people. I ask myself "How do we do it? How do we leverage all of who we are and really help the Army do what they do best?" There's not a minute that goes by that you're not on my mind. We can use our celebrity status and influence to give to others and bring hope. Celebrity status should be given to teachers, doctors and those doing really great work. But we can at least use it to do good.
Over the course of these 25 years, there have been a lot of outstanding performers. Are there any Red Kettle Kickoffs that really stand out in your mind?
I have so many stories. It's been full of incredible experiences with incredible talent who all have the right frame of mind, giving of themselves and helping something bigger than themselves. But I can never forget our first performer, Reba McEntire. I will forever be indebted to Reba. The idea was in its infancy when we went to see her and ask her to give her time, energy and effort, she said "Of course I'll do this. The Salvation Army was my grandparent''s favorite charity. They served donuts on the front lines of the war for my grandfather. I'll do whatever you ask me to do." That was indelible to me—who she is and how authentic was her desire to help.
The Cowboys partner with The Salvation Army in other ways in addition to the Kettle Kickoff. Tell us about that.
At Christmastime, we are in the trenches and in the warehouse. Our players love getting to be a part of the Angel Tree program. During our games throughout the season, we have a 50-50 raffle to encourage our fans to support The Salvation Army. We love forming an evergreen relationship in everything we do. When we''re not playing football, we're partnering with The Salvation Army to figure out how we can leverage the assets we have to better help you do your job.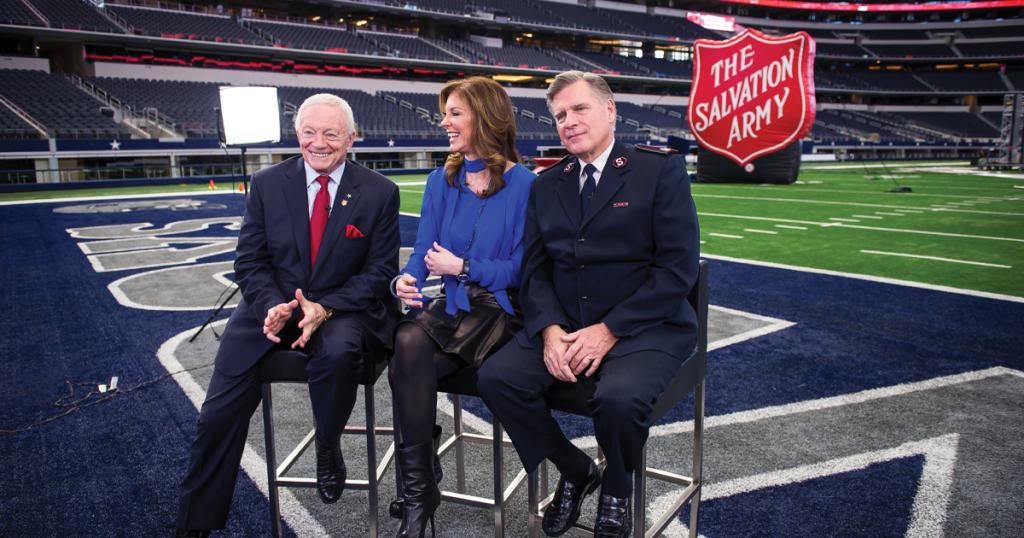 How do you keep all you do in balance, including your spiritual life?
I wish I had great advice, but sometimes I feel like I'm the one in the dark or underwater, trying to keep everything in line. I think that it takes being grounded and hopeful, knowing that there is Somebody way more powerful than you who's looking over your shoulder, there to help and to support. I think God does that for all of us. It takes having the wherewithal to recognize that He's doing it for you too. There are days when the picture in the mirror does not look as great as it did the day before t. You need something to give you confidence and support. I think our faith does that for us and, certainly, it is never failing. It's just having the ears to listen to the words. That's what we all need more of.
What does the Red Kettle signify for you? What impresses you about The Salvation Army?
Every time I see that Red Shield or the Red Kettle, I think of hope, and that's what The Salvation Army brings to everybody. You all are in the trenches, serving when at times situations are the most trying, challenging, and devastating for so many people. It's not you're your involvement during the big disasters. It's the everyday disasters that people face. When they look to the Army and they look at the shield, they know that someone is there to help them. It's the tangible essence of what God provides to all of us in hope. What I love about the Red Kettle is that it's participatory. It allows all of us to put hope in that kettle and help spread that hope. Sometimes things become so big that they seem a little overwhelming, so we wonder "What can I actually do to help?" It's everyone's little steps that add to the big picture of creating hope in a community.
Where would you like to see this partnership go for the next 25 years?
For everybody who supports the Dallas Cowboys or the NFL, who watch the organized chaos on the field every Sunday or Thursday night realize that it's a game, but the purpose is so much bigger. If we can all share in the exuberance of what the game means and then transfer that to others, we can bring that exuberance into someone else's life. The Salvation Army is the way to do that. That's what my father and I always look toward. He wears the shield on his lapel every day and says, "I hope that every time they see me, the shield comes to their mind." I want The Salvation Army to be synonymous with the Dallas Cowboys. That's what our goal is, to just keep infusing society with the hope that rings true and who's there to provide it.
The Salvation Army has been an incredibly important part of my life. It has taught me how to use my servant heart. I hope that through anything that I have done, or the Dallas Cowboys have done, that each person would be inspired to find their servant heart and be able to give back, give to The Salvation Army and help them do the most good.
This article was published in the November 2021 issue of The War Cry.