Q&A
Q&A with Anders Ljungholm
Anders Ljungholm serves as corps mission associate of the Alexandria, VA Citadel Corps.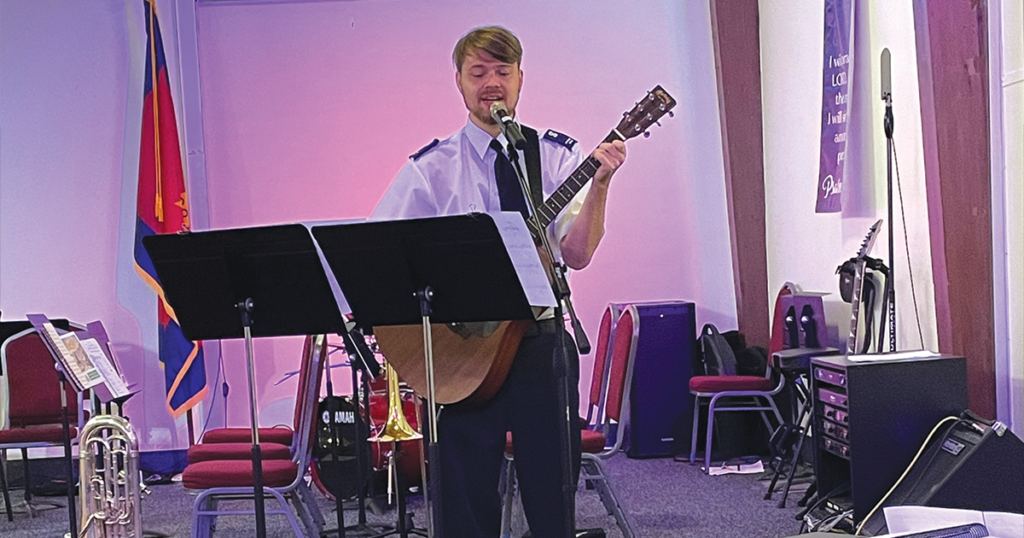 01. How were you first introduced to The Salvation Army? 
I was first introduced to The Salvation Army through my parents, who are life-long Salvationists.  
02. What is your ministry position in The Salvation Army? 
I am the corps mission associate of the Alexandria, VA Citadel Corps. 
03. What does a typical day look like for you, especially during the Christmas season?
Christmas season is busy. I come in and the first thing I do is kettles. Bell ringers are assigned to their kettle locations for that day. I usually have a route that I drive. Once I'm done with that, I come back and help with our Angel Tree program. Packing toys, labeling bikes and sorting doll houses, all while guiding volunteers. Some days I'll play gigs to help raise money for our corps. Rotary, Kiwanis or other community groups. 
04. What is your favorite part of ministry?  
Teaching kids music is my favorite part of ministry. I teach brass and sometimes the singing company. We also have devotionals that corps leaders and myself lead. For two years I've seen these kids grow up and get better at music and their walk with God.
05. What are your hobbies?
My hobbies are playing soccer, watching sports and playing sports video games. I also love playing the guitar and recently have been writing music. 
06. How do you connect with God?
I connect with God mostly through music, especially singing. There is something special about singing the Word of God for His glory. I also think playing in band with people who are all in for God is special. When I played with the territorial staff band, I met people who were spiritually mature and took it seriously. Even in rehearsal you can connect with God by relaxing and enjoying the experience.
07. Who inspires you and why?
My mom. She is one of the hardest working people I know and always puts people first. She also has a way with people and makes them feel comfortable. I definitely look up to her and I try to follow her lead.
08. What is the next step in ministry/leadership for you?
The next step for me is to be braver and more transparent with my faith. My soccer pickup group has no affiliation with The Salvation Army and I don't hide that I am a Christian, but I could do a better job of inviting them to my church.
09. What advice would you give another young adult who is interested in ministry?
Be brave and be patient. I think young adults can have a great impact on a corps, and sometimes that can mean starting new programs. Finding creative ways to do outreach is a good start to grow your corps. 
10. Do you have a favorite Bible verse to share with readers?
It might be overused, but Jeremiah 29:11. "'For I know the plans I have for you,' declares the Lord, 'plans to prosper you and not to harm you, plans to give you hope and a future.'" This verse has comforted me through tough times and helped me realize that I need to be patient with everything I do.