Healthy Habits
Birthday Strawberry Cake
Prep time: 1 hour 15 minutes (plus 2 hours refrigeration) | Cook time: 50 minutes | Serves: 12-16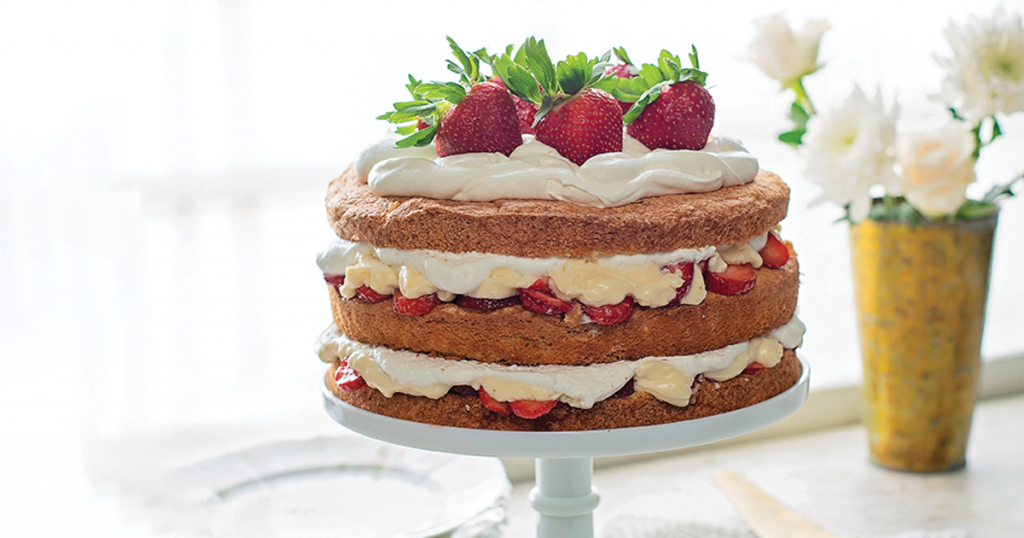 Ingredients
Filling
1 ½ pounds fresh strawberries, sliced (reserve 5 whole for decoration)
3 tablespoons sugar
1 (14 ounce) can sweetened condensed milk
2 cans milk (use sweetened condensed milk can for measurements)
4 egg yolks
¾ teaspoon vanilla
2 tablespoons corn starch
1 (8 ounce) can table cream
Whipped Cream
4 cups heavy cream
2 tablespoons sugar
Cake
1 tablespoon butter, softened
6 eggs, separated
3 cups sugar
10 tablespoons hot milk
3 cups flour
1 ½ teaspoons baking powder
DIRECTIONS
For the Strawberries: In a small bowl, combine the sliced strawberries (reserve 5 for decoration) with 3 tablespoons of sugar and stir. Cover with plastic wrap and let the bowl sit in the refrigerator for above 2 hours, until the strawberries begin to release their juice.
For the Filling: In a medium saucepan, over medium heat, whisk together sweetened condensed milk, milk, egg yolks, vanilla and corn starch. Cook, whisking constantly, until cream thickens into a pastry-cream consistency. Pour the cream into a bowl and add the table cream. Mix well. Then cover with plastic wrap, pressing it directly onto the surface of the cream to avoid forming a skin. Place in the refrigerator to cool.
For the Whipped Cream: In a large bowl, beat the heavy whipping cream together with sugar until soft peaks form. Refrigerate until ready to use.
For the Cake: Use 1 tablespoon butter to grease a 12-inch round cake pan and line with parchment paper. Preheat the oven to 350°F.
In a small bowl, beat the egg white with a hand mixer until soft peaks form.
In the bowl of an electric mixer, beat the egg yolks and sugar until pale and fluffy. Add milk slowly, beating constantly. Turn the mixer to low speed and add flour and baking powder until well-combined. Gently fold in the egg white with the help of a spatula.
Pour the batter into the pan and bake for about 20-25 minutes, until a toothpick inserted in the center of the cake comes out clean. Let cool and turn the cake out onto a platter. Using a long-serrated knife, gently divide the cake into 3 layers.
To Assemble the Finished Cake: Start by generously brushing the bottom layer of cake with the juices from the strawberries. Layer on half the sliced strawberries, then 1/3 cup of the filling, then 2/3 cup of whipped cream. Repeat the layering over the second round of cake, not forgetting to brush the round with strawberry juice. Add the top layer, brush with juice and allow the cake to rest in the refrigerator for an hour. Cover the cake in whipped cream and decorate the top with the 5 whole strawberries. Voila! Our favorite birthday cake!