Feature
Full of Faith with Candace Cameron Bure
"My goal is to always share Jesus with people."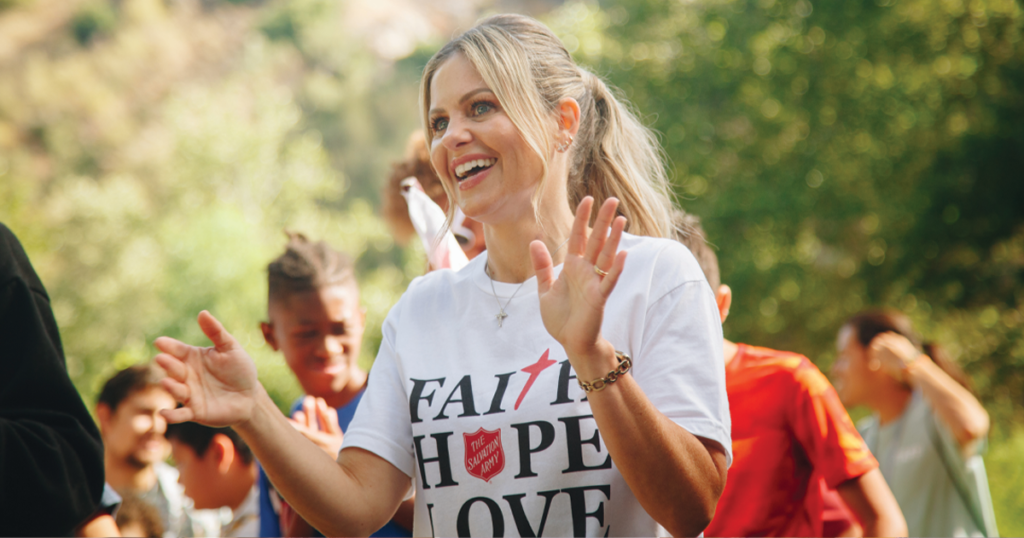 Over the years, The Salvation Army has partnered with many celebrities and social media influencers in various capacities to promote our work and raise awareness and donations. Among those partners, few are as dedicated to our cause as Candace Cameron Bure, the author, film and TV star known for hit shows "Full House," "Fuller House" and several Christmas movies. She's been working with the Army for years now and has one of the most consistent records as an influencer on our behalf. And besides believing in the Army's mission, she's also a devout Christian herself.
Bure became a Christian at 12 years old. That's when she and her family first went to church, and it wasn't long before she accepted Jesus into her heart and asked Him to be her Lord and Savior. But, as it is for many, she only started actively living out her faith as a young adult. In her early 20s, Bure says that being a Christian "became very real and important to me and not just a compartment of my life or a label." That's when she started to develop her personal relationship with God through spending time with Him and reading the Bible.
"It is absolutely the core and foundation of who I am as a person," Bure says. "My faith means everything to me, and I don't leave my faith behind when I walk out of my home, I don't leave it at the doorstep depending on where I am. I know whose I am. I'm a child of God, and that is really the most important thing in my life."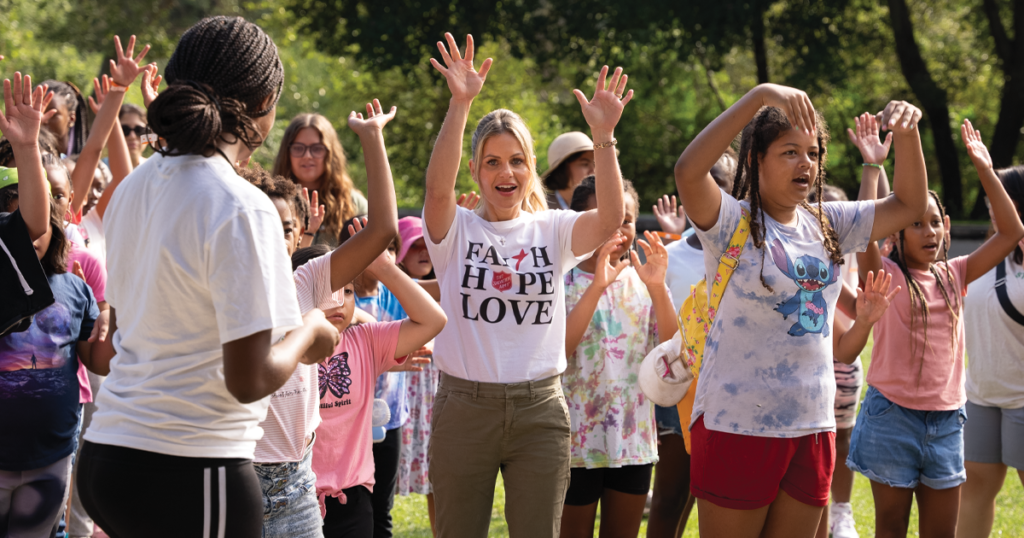 Bure says that her faith is the driving factor in who she is, and that includes all the choices that she makes regarding her career. With every opportunity she is presented, Bure considers whether she will be able to honor God with the work, because her faith always comes first. That's why with any programming that she's in and any movie that she makes, she has been very intentional to make content that is family friendly. "I don't want to do anything but family friendly television and movies or things that would be honoring God in some way," she says. "They're not necessarily faith-based, but as a person who loves Jesus, I'm always pointing people back to God." Bure always strives to help people get one step closer to Jesus. That's her primary goal in life and in all her business ventures. "So, whether you know me from my movies or maybe you know me from my books or devotionals, really aside from the actress, Candice as a person just wants to share, and my goal is to always share Jesus with people."
Bure says that she's had a relationship with The Salvation Army since she was a child. Her parents consistently made donations to The Salvation Army throughout the year, and they always donated to the Red Kettle campaign during the Christmas season. She recalled what is a familiar childhood memory for many, her mom giving her a few dollars to go put in the Red Kettle on her own. Throughout her life, The Salvation Army was always the first organization that her parents looked to when they wanted to donate their time or money or goods. That's how it was for her growing up. So after Bure had established herself in her career and she was approached by the Army to see about partnering with them, she was happy to tell them that she loved their organization and they'd already been a part of her life for a long time.
"To be able to partner in a global effort both online and with social media, it just felt like a way I could contribute on a different level," Bure said. "[The Salvation Army] is still my go-to organization within my community, and I feel very connected because I love the mission behind The Salvation Army. We are like-minded in what we believe; truly loving people because God loves us first."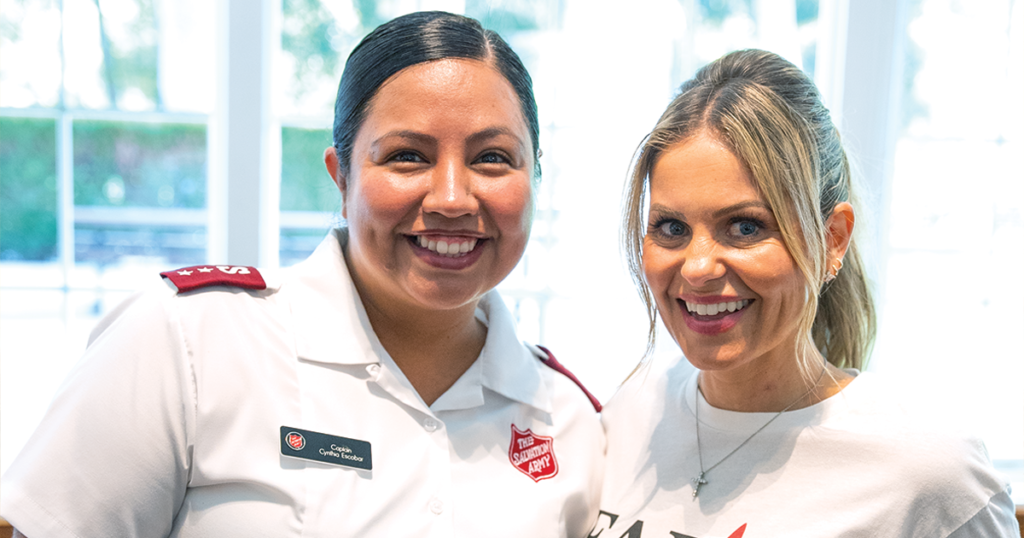 Bure went on to say that working with the Army has been eye-opening for her over the years as she continues to see more of the breadth of our ministries and efforts to help others. "I get more and more excited every time I get to do something because I see another facet of what The Salvation Army does to help."
On the day of this interview, Bure was spending some time at The Salvation Army's Camp Daley in California, which was a new experience for her. "This is pretty spectacular," she said. "This camp is literally in my backyard, and I have driven by for 40 plus years but never been on the grounds. It's really fun. I'm a mom, I love children. So getting to see happy faces and everyone having fun and singing and dancing and doing silly stuff like that, it just makes me really happy."
Some other Salvation Army programs Bure has felt privileged to see include afterschool programs and the Bell Shelter. The Bell Shelter is a homeless shelter in California, and Bure loved discovering that the facility has a farm whose produce is used in the meals served for clients. She also noted how important it is to provide kids with such a variety of programs after school in sports, arts and music. Bure says she's moved to see the Army doing so much in her community. "Obviously, The Salvation Army is everywhere," she says. "But I was born and raised in Los Angeles, so to see how prominent The Salvation Army is here and how many people volunteer within my local community, takes on a whole different meaning."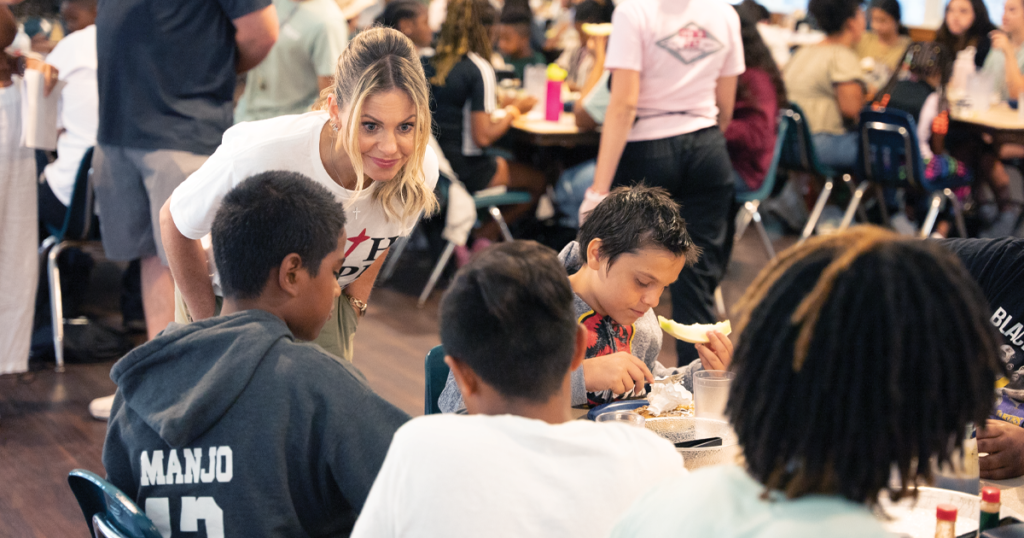 With the holidays right around the corner, we asked Bure why giving back during this season is so important. "The holidays are a time when our hearts are softened," she said. "It's a time of giving. We know the true meaning of Christmas, that Jesus gave us the most amazing gift. It's an eternal gift. It's incredible. So, this time of year is a time when we look for truth. We look for hope. Our hearts are softened to want to help, and that's why we give even more during the holidays than throughout the year, because it's a truly special time of the year. And it's even easier to either volunteer or donate because you see it everywhere."
"And as an adult, you think of what you either experienced in your life as a child or maybe you think of the things that you weren't able to experience, and that opens up the heart to want to be able to provide that for other people and their children. Even just the basic necessities of life like food and shelter. So, it's so important during that time to give and to be open to the calling."
She also said that there are different ways to give, noting that finances are good if they're available, but volunteering and spending your time with others, even with just one person who needs it, can make all the difference in the world.
Finally, we asked Bure to share some of her favorite holiday traditions and a little bit about what makes this time of year special to her. One of her favorite pastimes is watching Christmas movies, which Bure says are sometimes on nonstop. "I think it annoys my husband," she laughs. "He's like, 'Can we watch sports already?'"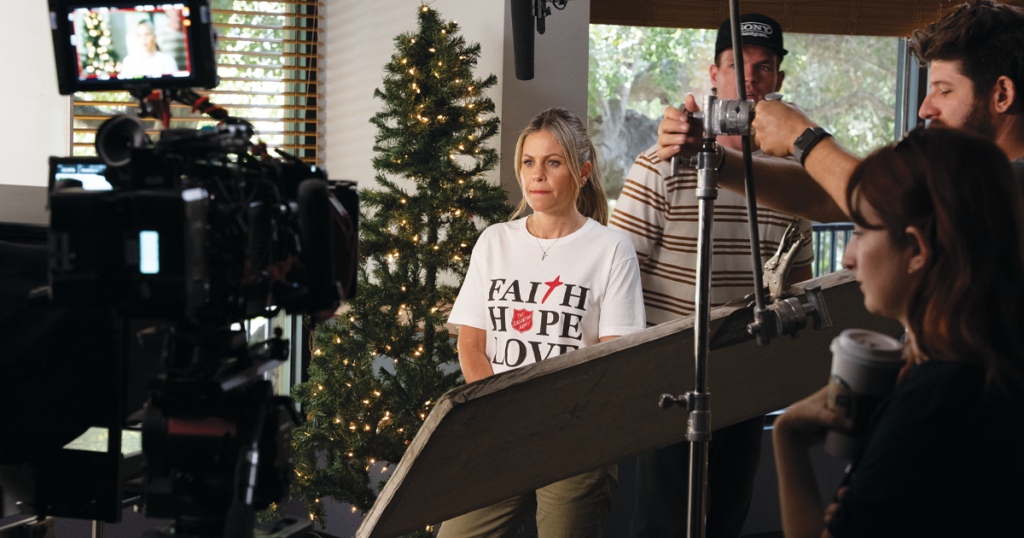 She talked about one family tradition that has been going for many years. The Bure family always serves meals at a shelter on Christmas morning. They have worked with one small shelter that houses about 60 people for more than 10 years. About 20 people, including Bure's family, her parents and some friends, purchase and bring in all the food, cook it, and then they sit and eat with the families who are there. They also bring gifts for the families. "It's really a special time," says Bure. "And we also share the gospel with them and why we're doing it."
The family has also added a new tradition to the Christmas season over the last couple of years. Bure, her husband and her three kids wake up before the sun rises, go out to the cliff on a nearby beach, and they watch the sunrise together. Bure also usually has her Bible there, and they read out of the book of Luke to remind themselves about the reason for the season. Then they pray together and focus on what the time of year is all about.
As the holidays approach, it is exciting to look ahead to The Salvation Army being so prominent in the public eye. It's great to have partners like Candace Cameron Bure who remind people everywhere to give out of their abundance, but more importantly, they also provide an example of living out one's faith in every facet of their life.