Frontlines
Former National Commander: Promoted to Glory
Commissioner Kenneth L. Hodder, retired National Commander of The Salvation Army in the United States of America, was promoted to Glory from his home in Florida on May 1, 2023.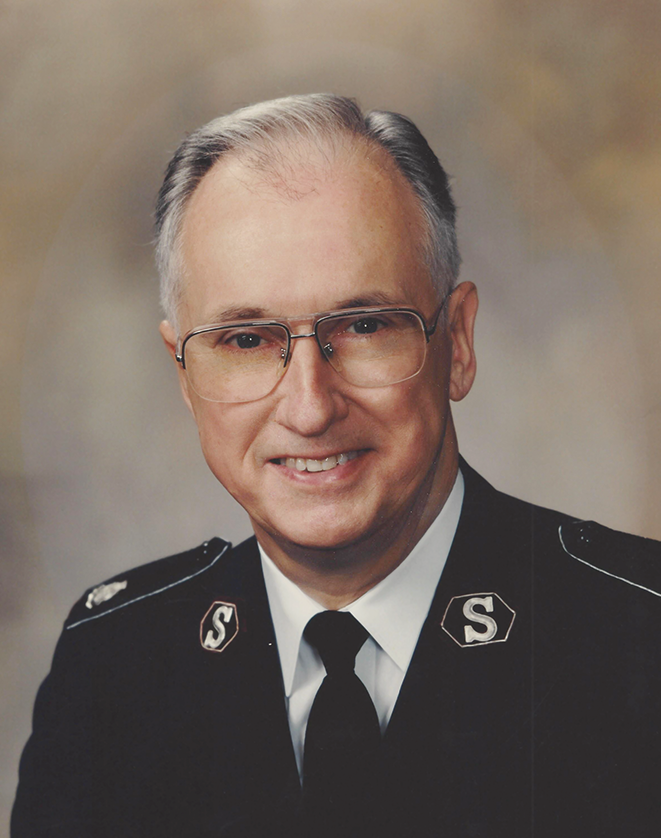 A fourth-generation Salvationist, Commissioner Hodder was born on October 30, 1930 in Nottingham, England. After emigrating to the United States in 1951, he graduated in 1955 from the University of Richmond with a Bachelor of Arts degree in English Literature and was elected to membership in Phi Beta Kappa. In that same year, he was named winner of the National Debating Championship.
Following two years of teaching at Town School for Boys in San Francisco, California, Commissioner Hodder married Marjorie Jean Fitton, herself a fifth-generation Salvationist, and the couple entered the School for Officers' Training in the USA Western Territory. In 1958, they were commissioned as members of the Courageous session.
Following several years of ministry in corps appointments, Commissioner Hodder was appointed by The Salvation Army as a Chaplain in the United States Navy, in which capacity he served his adopted country in several roles, including a tour of duty with the Seabees in Da Nang, Viet Nam, where he earned the Navy Commendation Medal with Combat "V." He subsequently remained in the US Naval Reserves, eventually retiring with the rank of Captain.
In 1970, the Hodders were appointed to Territorial Headquarters in San Francisco, where Commissioner Hodder enrolled at Hasting College of the Law, from which he received his Doctor of Jurisprudence degree in 1972.
Following divisional staff appointments, Commissioner Hodder was appointed in 1975 as Principal of the School for Officer Training in its new location in Rancho Palos Verdes, California. He and his wife later became divisional leaders in the Northwest and Southern California Divisions.
In 1985, the Hodders were appointed to Cabinet roles in the USA Central Territory, after which they served as Chief Secretary and Territorial Secretary for Women's Ministries in the Australia Southern Territory. In 1989, they assumed leadership of the USA Southern Territory, following which Commissioner Hodder became USA National Commander in 1993.
In May of 1994, the University of Richmond honored Commissioner Hodder with an Honorary Doctorate in Social Service.
As National Commander, Commissioner Hodder served on the boards of many national and international organizations, including the Christian Children's Fund, the Christian Management Association, the Lausanne Committee for World Evangelization, the National Assembly of National Voluntary Health and Social Welfare Organizations, the National Association of Evangelicals, the National Day of Prayer Task Force, the Religious Alliance Against Pornography, Religion in American Life, and the National Interfaith Cable Coalition/VISN.
On October 31, 1995, after 37 years of ministry, the Hodders retired from active service. The Commissioner enjoyed over 28 years in retirement in Sun City Center, Florida.
Commissioner Hodder is survived by his wife of more than 65 years, Commissioner Marjorie J. Hodder, as well as his son, Commissioner Kenneth G. Hodder (Jolene), daughter Major Katherine E. Hodder-Reed (John), and son S. Richard Hodder, together with three grandchildren and seven great-grandchildren.
We give thanks to God for the faithful service of Commissioner Kenneth L. Hodder, whose life-long obedience and many gifts combined to extend the gospel of Jesus Christ to so many people at home and around the world.