Army Archives
From Skeleton to Salvationist
Have you surrendered your soul to Christ today?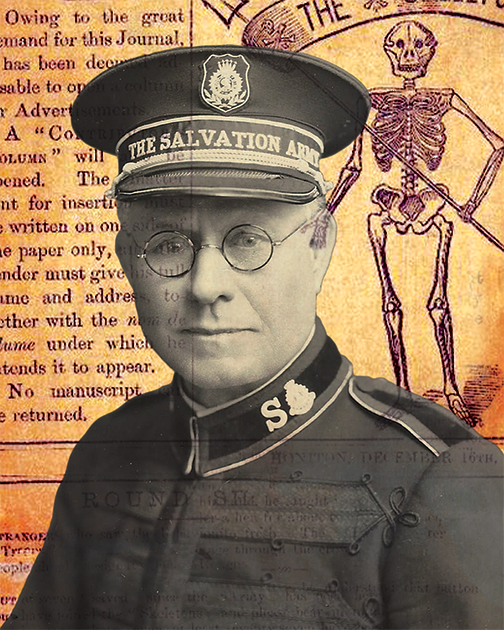 Battered and bruised, several of the earliest Salvationists experienced war from their adversaries known as The Skeleton Army. This group would throw rotten eggs, punch and kick the Salvationists as they would march in the open air to sing songs and preach about their Savior. The Skeleton Army made parody of The Salvation Army, wearing mock uniforms of their own, carrying their own flag — which had a skull and cross bones on it — and singing salty songs.
But among those Skeletons was a young man named Charles Jeffries, who would encounter God's grace and whose life would never be the same. In 1882, Charles entered The Salvation Army Officer Training College and began fighting under the Blood and Fire flag.
We can't be certain that Jeffries didn't keep any earlier emblems of his Skeleton days, but we know that his testimony burned brightly as he spoke concerning holiness. One of his fellow cadets was Erik Wickberg, who became the ninth General of The Salvation Army and said of Commissioner Jeffries, "It impressed us (cadets) more to learn that he (Jeffries) had been the leader of the Skeleton Army that fought William Booth and his Salvation Army on the streets of Whitechapel — until he was converted and became a Salvationist himself. He was a man of few words … always to the point … who could preach about hell-fire and the tail of the devil, so that we seemed to smell sulphur and brimstone!"
While Jeffries was serving in Australia, he met and married Martha Harris. Returning to the United Kingdom, the Jeffries served throughout Wales, Northern England, and London. Commissioner Charles Jeffries surrendered his soul, and in the process went from being a Skeleton to a Salvationist.
Have you surrendered your soul to Christ today? 
Captain Charles Smith is the corps officer in Jonesboro, AR. | Photo Credits: Charles Jeffries via National Archives; 'Skeleton' newspaper via International Heritage Centre