Feature
Going Home with Cynthia Geary
"It's a special show with an important message and I hope we get to do more in the future."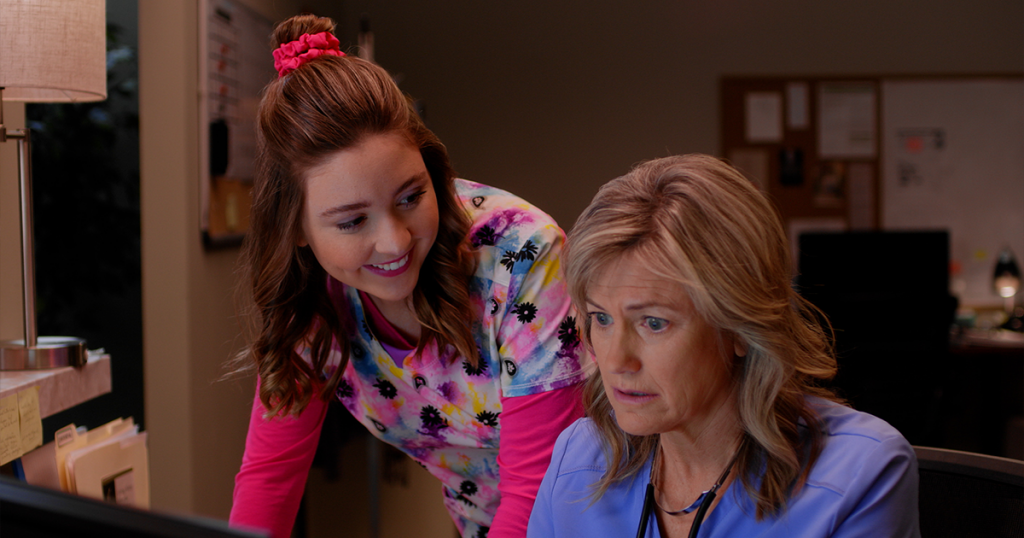 You may recognize her as Shelly in "Northern Exposure" or as Rhonda from the Olsen twins' "To Grandmother's House We Go." Today, Emmy-nominated actress Cynthia Geary has joined the PureFlix family starring as Charley Copeland in the new series "Going Home." While living her everyday life in Washington State overlooking a beautiful lake, Cynthia sat down with The War Cry to talk about her new role as Charley and why this project means so much to her.
When did you start acting?
I talked my parents into letting me move to Los Angeles to go to summer school at the University of California with the secret intention of taking acting classes and trying to break into television and film. Since I didn't know anybody in the business and had no connections, I was nervous about telling anybody that that was my intention. I love performing but I had never done any straight acting and theatrical acting.
My parents said, yes, let me go to summer school at UCLA, and I started studying immediately with an acting coach there. At the end of the summer, I called my parents and said, "I can't come home." I waited tables at a Mexican restaurant, and, during that time, I never missed an acting class. I spent every penny on my acting training and voice lessons. One day while I was working, I happened to wait on a woman who was a manager with a prestigious company and her husband who was a producer. As I chatted and served this couple, she asked me if I was an actress. I said, "Yes everybody in LA who waits tables is an actress," and she gave me her card. I signed with her and, three months later, was cast in "Northern Exposure." While I filmed "Northern Exposure" I also did other films including "8 Seconds" with Luke Perry and "To Grandmother's House We Go" with the Olsen twins, which is a seasonal favorite. I've been nominated for an Emmy, which is funny because at the time I didn't know that was an award show! I just feel very grateful for all the opportunities that have come my way and have led me to where I am today.
"To Grandmother's House We Go" is one of my favorite Christmas movies—do you have an interesting story to tell from working on that film?
Yes! It was their first movie, and they were only six years old. I played their mother in the movie, so when I came to shoot, it turned out that Mary-Kate had a black eye that she had recently gotten while playing outside. So, it was actually Ashley who shot a lot of the individual scenes as both Mary-Kate and Ashley's characters. We had to wait until Mary-Kate's eye healed a bit more, so all the scenes where it's two of them—it is actually both of them, but in the scenes where it's just one of them—it's actually just Ashley!
Then, because they were kids, of course, they could only work so many hours in a day. So, in the scenes where the camera is just on me and I'm "talking" to the girls—I'm actually talking to this metal post and someone off-camera would read the twins' lines out loud so I could talk back to their "stand-in." There's a lot that goes on behind the scenes with editing that most people don't even realize!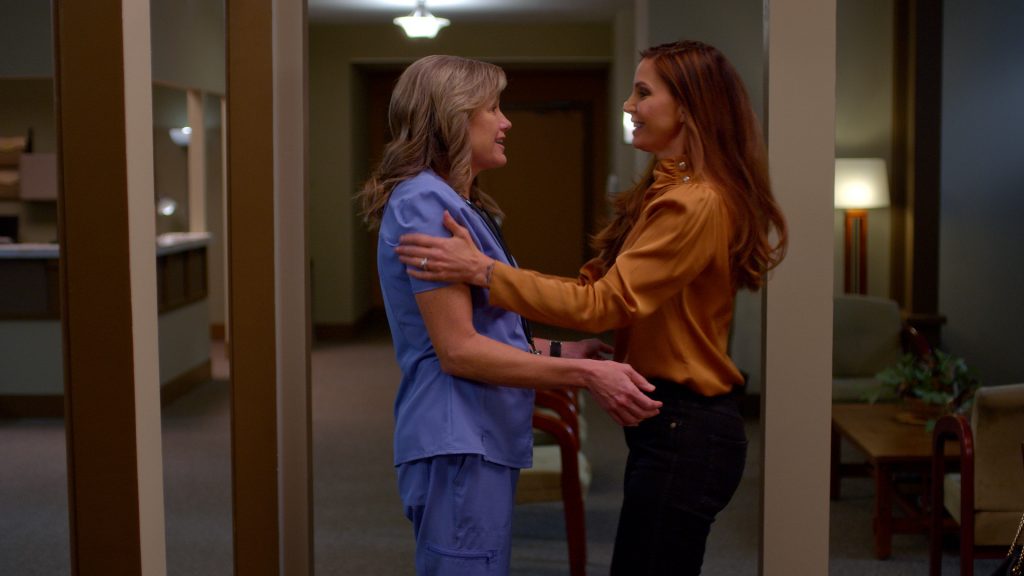 Tell us about the new series you're on.
I play Charley Copeland in the new PureFlix series "Going Home." I just couldn't have even imagined how great this experience would be. I feel so lucky that they asked me to audition for this and I feel like I was at the right place in my life. Right then, when I got asked to audition for the role of Charlie, I was in the middle of doing a 2-person play in Seattle and I was on stage for an hour and a half. I played a geneticist, and I had a ton of dialogue. It was just a very intense and challenging role and I feel like that kind of prepped me for playing the lead in this show because I do have a lot of monologues, a lot of dialogue and we shoot fast.
Although it's a show that's character-based and about dialogue, we move fast and there wasn't a lot of downtime. For those who don't know the business, when shooting movies, a lot of times you spend hours sitting in your trailer waiting and you have a lot of time to review your lines, and that wasn't the case on this show. You really had to come in prepared, and, luckily, I was in that mind frame, and it was a gift. It's based on a real hospice, Spokane Hospice in Washington State, and I was fortunate enough to get to go there prior to shooting and talk to the nurses and the people who work there and read these guest books, people whose family members have passed on, who write in guest books, write about their experience.

What drew you to this character/role?
Personally, I had no experience with hospice. I haven't experienced a lot of death. For me, the whole thing was new, but I was just so impressed and blown away with the people that work there. It's a calling, for sure; the nurses that work there and see their role as providing the families, both the people that are passing on and all their loved ones, with good – they call it a good death, and what they mean by that is just providing a place where they can have a peaceful, beautiful transition to what is next. And they really, really do. I think our show creator, Dan Merchant, did such an incredible job capturing these stories.
All the episodes are based on stories that people told him, from his personal experience, or from the nurses, that really happen in hospice. It's really moving, and it's given me a new perspective on the whole process of dying. It really doesn't have to be a sad, depressing event. It really can be cathartic and beautiful as people can resolve issues and just get closure. And I think it's a gift to the family members, I mean, as much as to the person that's passing away; their family can say goodbye in a lovely, peaceful way. And if there are things that need to be resolved, they have that opportunity, and the nurses, they're facilitating that. I mean, it's incredible that they just know the right questions to ask and when to be in the room and went to be present and when not to.
One of the interesting things that I've heard a couple of times now about hospice and the nurses there, is that sometimes people who are close to death, they hang on for a long time because their families don't want to leave the room, and the whole family is there, and they wait. And finally, the nurse will come in and say, "Hey, you guys want to go to the lounge and have a cup of coffee or just take a break. I'll stay here. I'll watch for you and I'll call you." I think it's not uncommon where the family will leave, and the person will go and pass on because they don't want to die in front of their loved ones. They don't want them to have that memory and it's just really moving.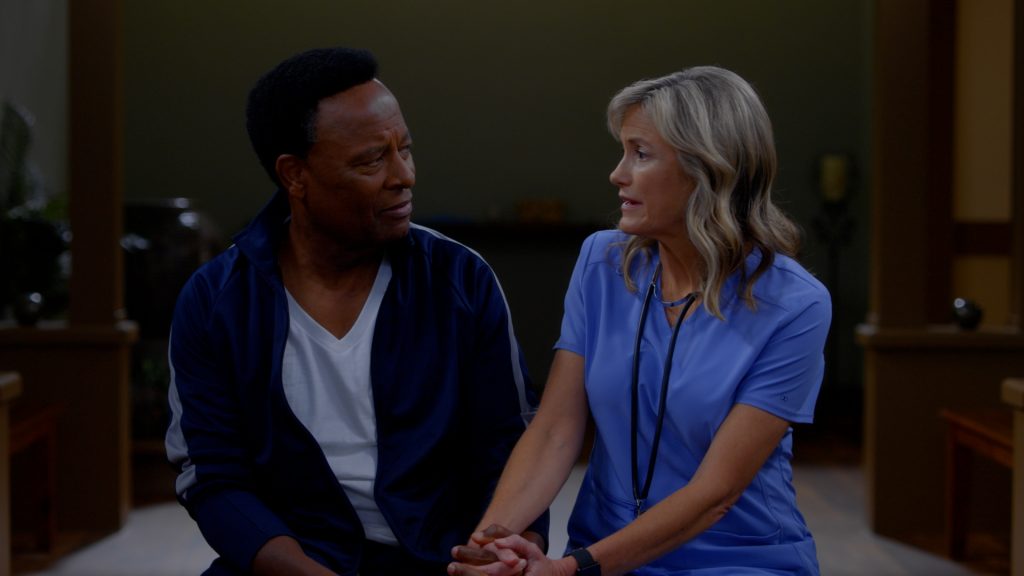 The role of Charley was really challenging, and I learned so much. I can't say enough about our show creator, Dan Merchant. He directed most of these first episodes. Just an incredible crew. I don't think anybody was ever uptight or cross, or if they were, I'm sure they were because we're working fast but you didn't feel it. They really made such a nice environment because these were intense scenes and emotional scenes and I think they made an environment where everybody felt safe and comfortable to do their work.
I love the fact that our producers have a policy that we did not shoot more than 10 hours a day because they wanted to respect the crews. They have families and they have lives outside of this job, and they stuck to that. 10 hours might sound long to a lot of people but in the film world, that's very civilized. You get to go home to your family. We never shot past 7 p.m. and so people get to go home and see their children and live their lives, which I think is the way to do it. It makes sense. So many times, in fact, on most of the productions I've worked on, they don't do that. A lot of times it's 14, 15-hour days and it's so intense, especially the crew who is there 24/7. Really, it's hard to have a life outside of this and I'm grateful and respect our producers for making those commitments to the crew. I so hope we get to come back and do more. It was just a fantastic experience.
Well, I mean it is universal. We're all going to die. It's something that everybody in the world is going to have to go through and it's just a matter of how you go through it. Now, having been through this experience in this show, I think it's a gift to know that you only have a finite amount of time, and this is your opportunity to make peace and to say goodbye to your loved ones in a beautiful, healthy way. And I haven't seen anything like it on television.
What are you most excited about for people to see from this series?
I hope it changes people's perspective on death. I really hope people come away from this show feeling uplifted and positive. I won't give anything away, but it is a positive show. The message in the show is positive and I feel that, hopefully, people will watch and see that it's not a downer.
I mean most of the episodes, a lot of my scenes I'm talking to God, who's my buddy, who helps me, and I really love the way that they structured the show, and that Dan wrote it because, again, that's just my character's way of dealing with what I have to do in my work every day and the heaviness of that. And then I go talk to my buddy about it. I love the intimacy and that it just really feels real.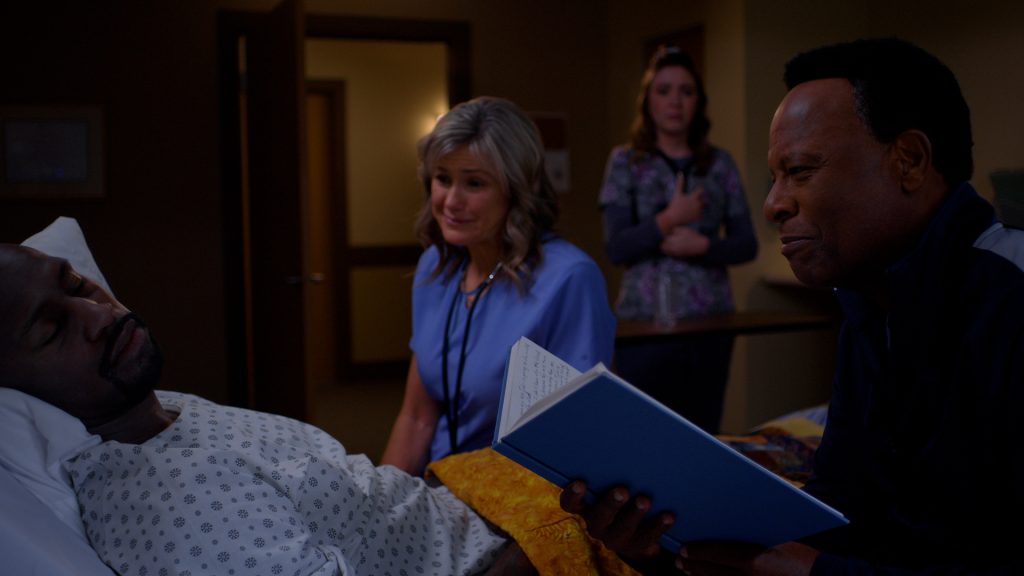 How does faith impact your work?
Well, first, I'm an actress and it would be disingenuous for me to say that I judge roles based on the message that they're sending. There are a lot of things that go into why I choose a role; is it well written? Is the character a full and complete character. Is it something that's going to challenge me? And sometimes it's just a job because that's my job. When an opportunity comes, you take it because it leads to the next thing. But I would say as far as faith, I feel like everything that crosses your path is there for a reason and you can grow from both good and bad. I think I've probably learned more from the hard, challenging things in my life than when things are easy and great. I would say that I approach everything with the belief and faith that it's going to be good. If I do my best and I give it my all and come into it with a good attitude, something positive is going to come from that.
It is easier said than done, but I certainly try to keep that in mind. My friends call me the yes girl because I say yes. I try to say yes a lot, whether that be yes to work experiences, to trying new things, to travel. Yes with my kids. I try hard. I think it's Shonda Rhimes who wrote that article about the year of yes. I really try to say "Okay, why is this opportunity presenting itself?" I try not to say no because "Oh, I'm too busy." or "Oh, it's going to change. How could I do that?" A lot of times, it's easy to say, "Well, how am I going to do that show? It shoots in Spokane, and I live 5 hours away and my daughter is in high school. And how's that going to work?" And if I go down that path, I would have said no, but it did work.
Everything worked out beautifully. All the pieces fell together, and I guess that's what I mean. I try to just look at things from the perspective of, "Okay. I'm being presented this and why? Where's the good in it? What can I get out of it?" And then I would also say just, again easier said than done, but trying to live in the now and not overthink every little bit of it. I've been given this great day, how am I going to make it great?
What has this role taught you?
I might sound like a broken record, but it's taught me so much about the way I feel about death and hospice. I had to be on and prepared and focused every second of every day, but I also wanted to make sure that I'm kind and open and that I meet everyone.
One of the things that I've learned from my career, starting out young, well young as in my early 20s, was that I wish I knew then what I know now, and I wish I would have taken the time to get to know everybody on the crew; a lot of times as an actor, you're in front of the camera. The crew and everybody involved knows you, they know your name because your name is on the screen and they see you and you're on the call sheet, but there are hundreds and hundreds of people involved in the production with amazing stories and so much to give. And I think that that it's easy to go through this whole process and in the end, while you get to know certain people that you work with daily well and you make these close bonds, there are just so many people. I am trying hard to make the effort to get to know something about everybody there, because I have learned they all go on to do amazing things.
I wanted to make sure that I set the right tone and examples, like always be on the set before they call me, never be sitting in my trailer; I just don't want anybody to have to wait. I didn't want them to ever go, "Oh, she's still in her trailer," which is common and it's not always the actors' fault, they don't even know. But that was important to me because I knew that this show is shooting on a budget and time is money. And so, I really made a point of trying to always be there before they called me.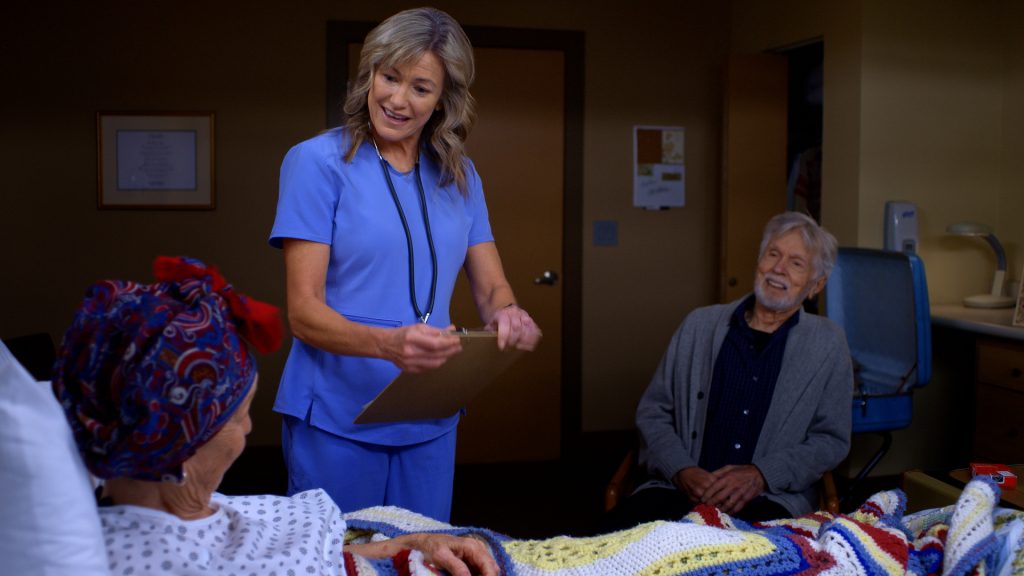 Without giving too much away, what is your favorite scene or episode?
Oh boy. Okay. I hope it doesn't sound like I'm bragging, but my favorite scene is the last scene of each episode, where I'm on the porch talking to God because I think the way he wrote that is great and special. I just love that. It's so casual and easy, and as an actor, I really found the scenes challenging but I thought they were beautiful, and I loved them.
Our guest stars' performances just broke my heart and Tom Skerritt was just incredible and there were some scenes with Charisma Carpenter, and I loved it. It was such an amazing experience for me because I got to sit there and experience their performances and watch them, and they're just beautiful. They're just beautiful. Vernon Davis was great, and all the guest stars were so good.
Final message for our readers?
My hope is that you'll watch the first season of "Going Home." I feel like the show grows, the characters grow, the story and everything just get better and better and better. It's a special show with an important message and I hope we get to do more in the future.
This interview was edited for clarity. Stream the first season of "Going Home" on PureFlix at pureflix.com. |PHOTO CREDIT: Pure Flix