Q&A
Q&A with Colonel Susan Bukiewicz
Colonel Susan Bukiewicz has recently been appointed as the national secretary for personnel.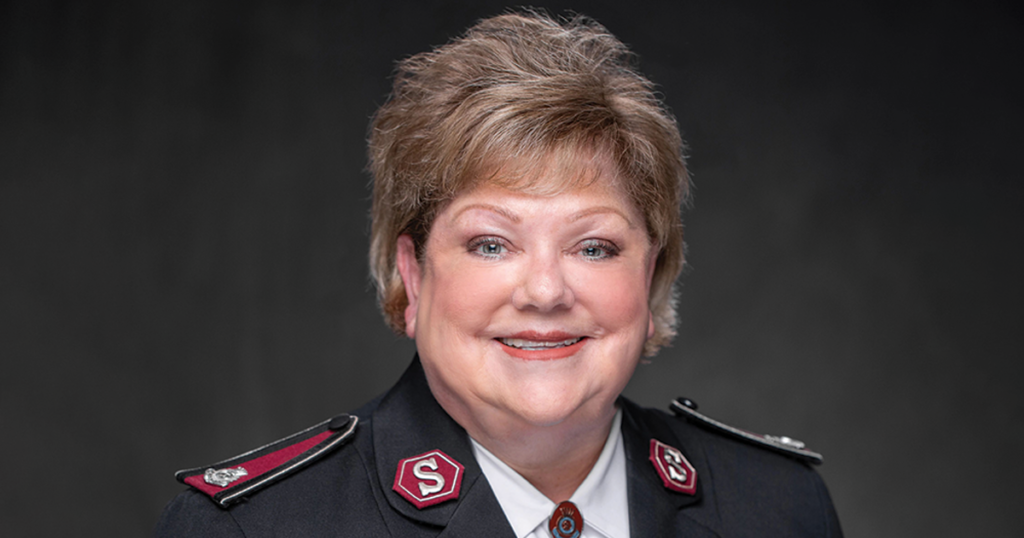 01. How did you first meet the Army?
My parents were Salvation Army officers, so I was born to this. They were my corps officers for most of my life and modeled beautiful lives of service. I saw officership as a noble offering.
02. What is your favorite event or program in the Army?
The answer to this question has changed with my appointments and stage in life. Having said that, I joined the Home League in Goshen, IN when I was 16 years old and have never looked back!
03. What has been one of your biggest joys as an officer?
My greatest joy as an officer is to walk with someone on their spiritual journey and see them grow in Christ. It's the best.
04. What has been one of your biggest challenges as a leader?
To borrow a phrase from Reggie McNeal, a challenge for all officers/leaders is to "not substitute activity for spiritual vitality." I could be the busiest officer on the planet and not do God's will. Ministry—not activity—should flow from my spiritual vitality.
05. How do you nurture your own spiritual life as a busy officer?
Nurturing my own spiritual life doesn't happen unless I am intentional and consistent. I've never felt that I could "wing it" spiritually. God created me with a keen awareness of my great need for Him every moment of the day. My mom ordered her life around her soul. I think of that often—especially when I get it backwards—when I try to get my soul to fit around the choices I've made that just scoot around what I know to be God's will and design for me. It's exhausting to constantly rationalize what ultimately makes my soul a messy habitation for the Holy Spirit. I need to be intentional about this soul business. No one is going to attend to it but me. Ordering my life around my soul just doesn't happen on its own.
06. Who has had the greatest influence on your officership?
My mom, Major Alberta Cunard. She raised five strong officer-women and never slowed down. She was a great officer—creative, deeply spiritual, wise, caring. She taught me that every Salvation Army program was a cleverly disguised opportunity for evangelism and discipleship. She loved people and valued relationships. She was a gifted leader, teacher and pastor. Her greatest gift was her gift of faith. She just KNEW that mountain was going to move.
07.What are your hobbies?
Reading, crocheting (I'm a total amateur) and holding hands with my wonderful husband.
08. What are you currently reading?
I am currently reading "Emotionally Healthy Spirituality" by Peter Scazzero. I would love to be part of a small group study of this book—it's fantastic. I am also reading "Emotionally Healthy Spirituality Day by Day: A 40-Day Journey with the Daily Office." It's challenging—and, for me, a new way of connecting with the Lord.
09. What is your favorite scripture verse?
My life verse is "Delight yourself in the Lord, and he will give you the desires of your heart" (Psalm 37:4 ESV).
10. What are your hopes/goals for 2023 and your new appointment?
This appointment is new ground for me and I'm excited about that! The responsibilities push all of my ministry buttons and I look forward to serving people with the grace, mercy and love of Christ. God is sovereign over my life, which includes my appointments. I'm looking forward to this new adventure!