Frontlines
Reaching Unhoused Neighbors with Christ's Love in Kapolei, Hawaii
"Church can be so much about just Sundays, but really, it is supposed to be happening seven days a week. So this is one of those great [examples of] ... get out there and be the church in the world that needs the church."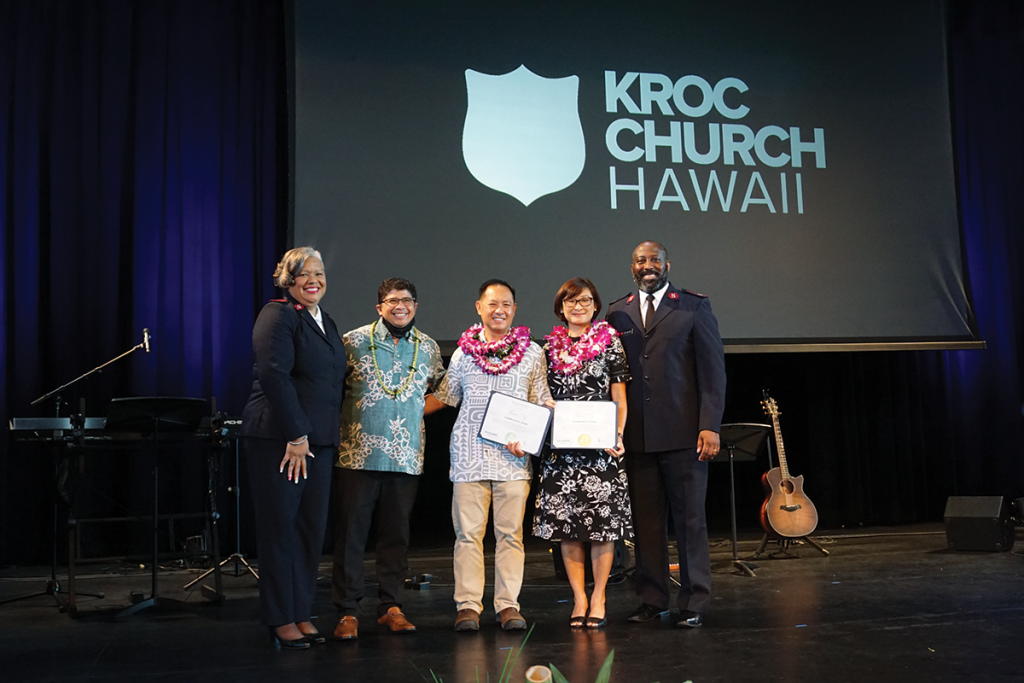 Every first and third Saturday, the Homeless Outreach Team from The Salvation Army Ray and Joan Kroc Center in Hawaii gathers in the Kroc Center's parking lot in Ewa Beach. There, they share Scripture, prayers and sort donated food and supplies. Then, they break into smaller groups and walk around the Kapolei community to visit neighbors who are experiencing homelessness. These individuals are often found not in encampments, but throughout the community, making foot travel essential.
The goal of the outreach is to provide a ministry of presence through relationship building—the regular interactions when members of the Homeless Outreach Team learn about their unhoused neighbors' stories, needs and find ways to serve them where they are.
"I find that while they appreciate what we can offer, they actually appreciate our presence more," said Jeannie Chan, who, with Sam Ng, brought the idea for the group to the Kroc Center. "This ministry is not a feeding program … We can actually still minister and go out without those material things, because those are just vehicles for us to have conversations with them and connect with them and offer hospitality to them. But the consistency—seeing us back, especially during this COVID-19 period—it means a lot to them."
When members of the outreach teams approach an individual, they first introduce themselves and say they're from The Salvation Army. They ask for the person's name, ask if they're new around the community, and where they sleep. They offer the sandwiches and other items they have. They end every interaction asking if the person would like prayer. They're often asked for the latest copy of the devotional, "Our Daily Bread," which they bring to distribute.
Chan and Ng are quick to reframe the language surrounding the outreach to match the motivation with which the outreach team approaches the outings. "We go in with the attitude of a shared brokenness and a common need for a Savior," Chan said. Instead of "volunteers," members of the outreach teams are referred to as "servants."
Prior to the pandemic, the outreach was more flexible in the group sizes of servants. Smaller groups of 8-12 servants volunteered during COVID-19, reaching between 25-35 individuals experiencing homelessness each outing. Because of their consistent presence, they've gotten to know a number of people by name, sometimes linking them to social services.
One Saturday, the group came upon a man who was clearly distressed and said he was having suicidal thoughts. The group waited with him and called for help, so he was able to go to a hospital.
"This gentleman was so in despair that morning, he told us that he was praying for God to send rescue to him," Chan said. "So, when we showed up … he pointed at some of our members and said, 'I remember you guys, you gave me a pair of socks before.' And even though we did not remember him, he remembered us. And that itself gave so much hope."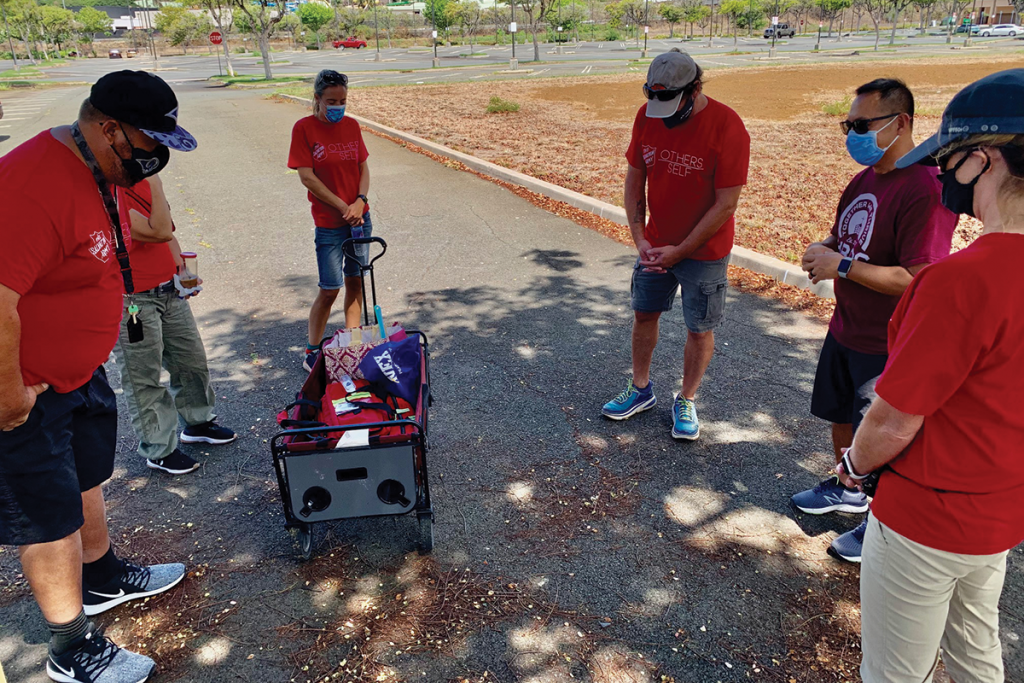 Chan and Ng came to the Kroc Center in 2017 after moving into the area—they wanted to be a part of a congregation in their new community. When they moved, they brought the homeless outreach ministry with them—they had started the ministry years prior at another church. "We just felt the calling, serving this population," Ng said. "We just felt that [message from] Matthew 25: 'When did we see you hungry and feed you, or thirsty and give you something to drink?'"
The Kroc Homeless Outreach Team began its ministry in 2019, and after several years, the core team of servants wanted to sharpen their skills to further their impact. They connected with ministry partners and service providers in the community to hold the Homeless Outreach Workshop (HOW) event in May 2021. Nearly 40 individuals participated, including attendees from the Kroc Center and other churches. Homeless Outreach Team leaders presented on a range of related topics, from sharing the heart of the outreach ministry to basic first aid/wound care and outreach safety guidelines.
Representatives from social service organizations, like Achieve Zero and The Salvation Army Family Treatment Services (FTS) and Addiction Treatment Services (ATS), shared information on areas including substance addiction disorders and their connection with homelessness, as well as how to connect individuals experiencing homelessness with substance abuse services in the community.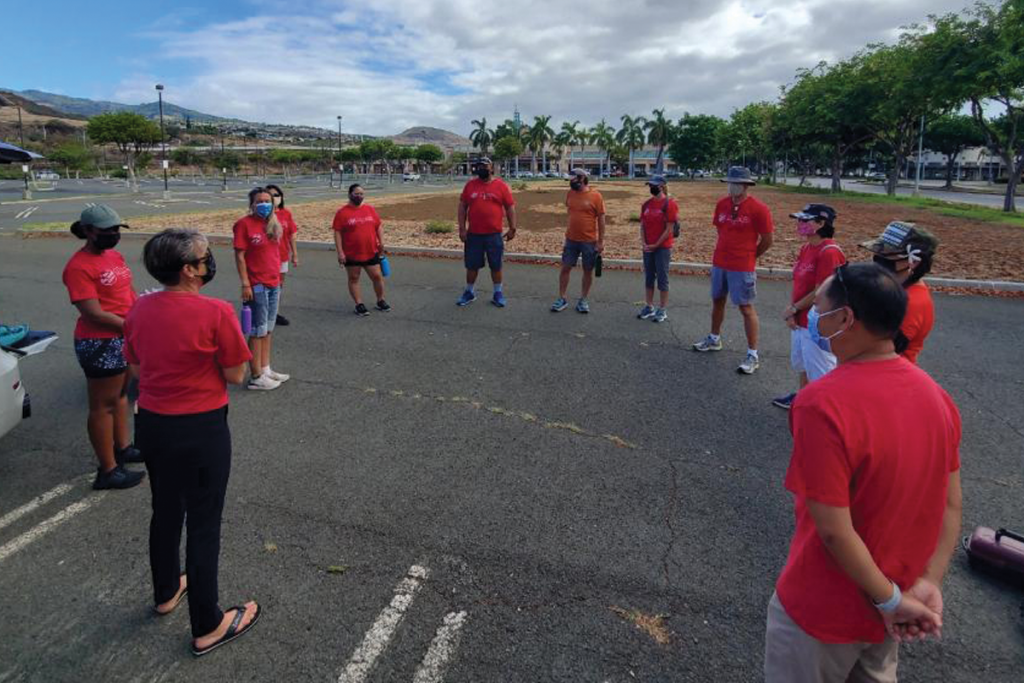 In November 2021, Chan and Ng were recognized by the Honolulu City Council for making a difference in their community after they were nominated for the City of Honolulu Community Service Award by an individual from their former church who was personally impacted by their ministry. For the pair, the ministry is not about the award.
"They're not wanting attention, but they said, 'Hey, we'll do it, but we want to make sure we honor everybody that's been a part of the journey,'" Kroc Center Ministry Director Rick Ahn said of the recognition. "And I love it because the timing couldn't be better, right? It just honors God and how He's been using The Salvation Army and … members of the body to do His work. And at the end of the day, He gets the glory, but we all get to celebrate."
Councilmember Augie Tulba presented Chan and Ng with a certificate on November 7th at the Kroc Center. In his remarks, he mentioned that next to making people laugh as a stand-up comedian, he takes great pleasure in recognizing people in the community who make a difference, like them. "It's just one of those ministries that I think resonates with the DNA of the Army … just going out after the people that maybe society forgets," Ahn said. "Church can be so much about just Sundays, but really, it is supposed to be happening seven days a week. So this is one of those great [examples of] … get out there and be the church in the world that needs the church."

Photos by Jeannie Chan and Rick Ahn