Try This
Recipe: BLT Towers
Prep time: 30 minutes - Cook time: 15 minutes - Serves: 10-12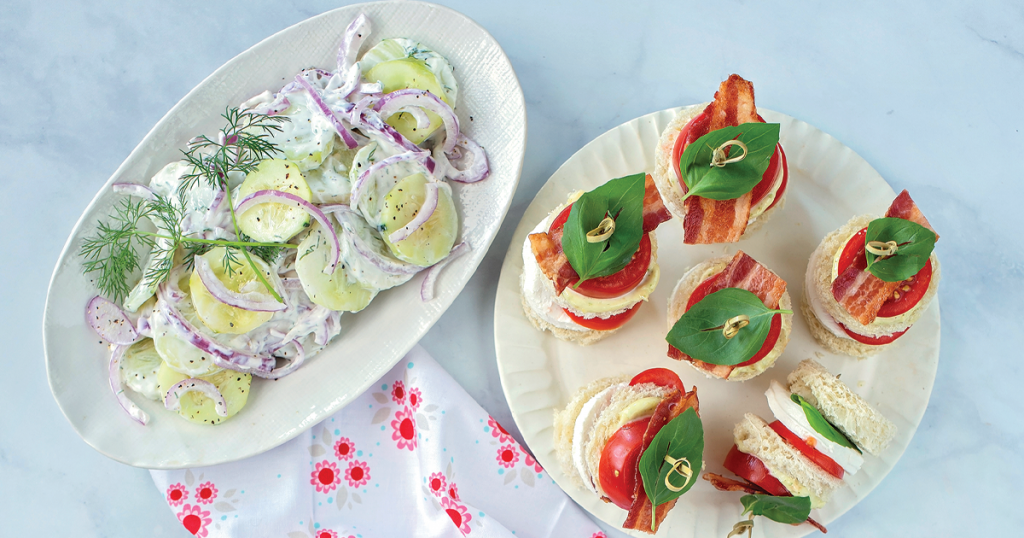 "When I consider what was important to my spiritual formation during my growing-up years in the church, it wasn't the Gruyère cheese puffs. Rather, it was the people who loved me with the patience and nurturing of Christ, often over meals. In the book of Deuteronomy, God told the people of Israel to teach their children about His ways when they woke up and went to bed and as they went about their days. I think this included while they gardened, cooked, and served the meals. I got this at the church potlucks and gatherings."
Ingredients
Bread slices, cut in rounds (better if cut the same size as the tomatoes)
3 tablespoons butter, melted
2 packages fresh Mozzarella cheese, cut in ½-inch slices
10 small tomatoes, ends cut off, sliced in ½-inch slices
1 large bunch Bibb lettuce, cut in rounds
6 slices maple-glazed bacon, fried crispy
DIRECTIONS
Preheat oven to 350 °F.
Using a circular cookie cutter, press into bread slices and create crustless bread rounds. Brush the rounds with butter, and toast in oven for about 8 minutes or until crispy.
Add Mozzarella to the bread round, then layer with tomato, lettuce, and bacon, making a tower. Repeat until all ingredients are used.
Secure the towers with a toothpick if desired, and place on platter. Easy and colorful!
Excerpted with permission from "A Place at the Table" by Kelly Minter.
© 2019, B&H Publishing Group.