Try This
Recipe: Salmon with Pesto & Tomatoes
Prep time: 15 minutes - Cook time: 20 minutes - Serves: 6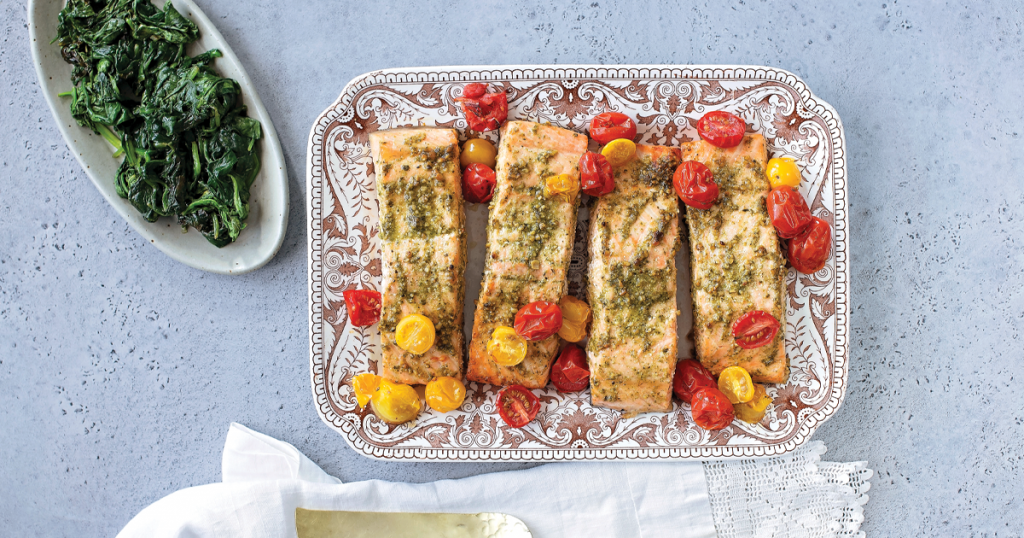 I like this recipe because it's another way to serve salmon. The fresh pesto and tomatoes give salmon another showing. Pair with rice and a vegetable, and you have a well-rounded, healthy and easy meal!
Ingredients:

3 cups fresh spinach, washed
4 tablespoons pesto, store-bought or homemade
6 skinless salmon fillets
1 pint cherry tomatoes, halved
2 cloves garlic, minced
1 teaspoon salt
1 teaspoon pepper
Balsamic vinegar, to taste
2 tablespoons olive oil
1 tablespoon fresh basil, chopped
Optional: You can substitute the spinach with zucchini, kale, or green beans
INSTRUCTIONS:

Preheat oven to 375°F.
Lay the spinach in a casserole dish and sprinkle with a bit of salt and pepper.
Spread the pesto on the pieces of salmon. Place them on top of the spinach.
In a bowl, mix the tomato halves with garlic, salt, pepper and Balsamic vinegar and place around the salmon.
Drizzle everything with olive oil and bake for about 20 minutes until the salmon is to your liking. Remove from oven and sprinkle with fresh basil.
Excerpted with permission from "A Place at the Table" by Kelly Minter. © 2019, B&H Publishing Group.