Healthy Habits
Steering Stepfamilies Through Storms
As you securely wrap your stepfamily ship with the rope of hope, you too can sail through storms and leave an amazing eternal legacy.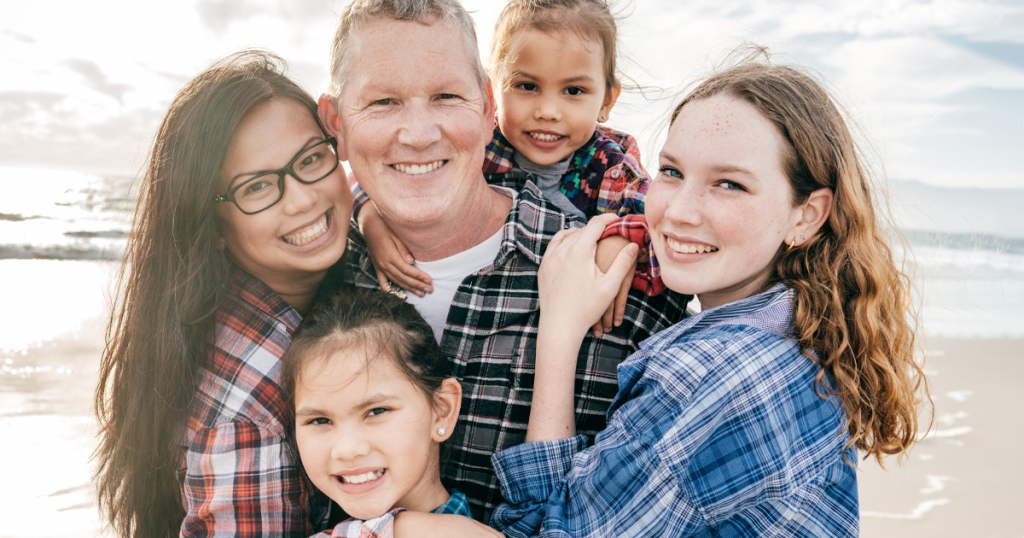 A young man shared a haunting story of his parents and brother's shipwreck in Alaska. The mother managed to hold onto the capsized boat, but her husband flailed in the icy water on one side, as her son cried out on the other. She had a split second to choose where to throw the only lifesaver, frantic that she couldn't save both her husband and her son.
 I counsel stepfamilies who are floundering in remarriage shipwreck. Biological parents see their kids sinking on one side of the family ship, and their spouse thrashing on the other. If they reach toward the one, the other starts going under. They long to row their boat merrily down life's stream, but they fear falling in with the two-thirds of remarriages that capsize in stepfamily storms. 
Stepparents say, "I know what my new love would do—throw the lifesaver to the kids and let me drown!" They often picture their spouse and children all snug in the boat while they dogpaddle in frigid waters trying to join them.
Stepfamily children navigate monsoons of emotions. Already swamped by rough seas of change and loss, they fear that the parent they've always known might choose this new interloper over them. 
Precious children, the true innocent parties in any marital shipwreck, often go under in stepfamilies. My own were almost among them.
God extends rescue in Hebrews 4:16: "Let us therefore come boldly unto the throne of grace, that we may obtain mercy, and find grace to help in time of need" (KJV). This Greek word for "help" means a rope or cable that sailors wrapped around their ship before storms. After surviving tsunamis of divorce or bereavement, everyone longs for smooth sailing, but God does not promise a storm-free life. He does promise all the rope we need to keep our boat afloat.
Here are some ropes to help stepfamily ships reach safe harbor.
Rope #1: Understanding that a stepfamily is not the same as a biological family.
Stepfamilies are more complicated and more at-risk of disintegrating. During the first few years, remarried couples average three times more stress than couples in first marriages. No matter how much they understood about marriage and parenting before, they're sailing in unnavigated territory now. 
Rope #2: More realistic expectations.
1 Corinthians 7:28 clearly states marriage will have challenges. In my experience, both personal and professional, remarriage and stepfamily living are challenging to the power of ten. When I was widowed with three preschoolers, I assumed a new husband and father for my children would solve all my problems. Wrong! Now I counsel all my remarrying couples, "Throw away the fairy tale about falling in love and living happily ever after. The truth is, you choose to love, and then work tremendously hard."
Romans 12:2 reveals that we change by renewing our minds. So, if you're thinking, "My kids are going to be as excited about this remarriage as I am," maybe try this more realistic belief: "My children had no choice in either the ending of their first family or in the forming of this new one. They may feel confused, happy, sad, or angry about their new family and stepparent … possibly all on the same day."
Grant grace to yourself and everybody else and expect new family bonds to build more slowly than you wish.
Rope #3: Pre-remarriage counseling.
Even though premarital education improves all marriage outcomes, many couples don't make this investment, and many professionals don't emphasize its importance for remarriages. But more past relationship history typically carries more baggage. Unrushed, professional, biblical counseling can help couples access God's healing, and change old painful patterns so they won't get passed on to future generations.
Rope #4: Appropriate authority with consistent consequences.
I specialize in counseling stepfamilies, and this rope is often the hardest for my clients to grasp. But it will make or break your boat. You know how all organizations have opinion givers and decision makers? In a stepfamily, the stepparent is the opinion giver, and the biological parent is the decision maker and enforcer for that parent's own children.
Biological parents actively communicate with both sides of the boat—listening to and reassuring their own children, while also privately soliciting and respecting the opinions of the stepparent spouse. Stepparents, with their fresh perspective on the family system, often provide valuable insights.
Biological parents also need support in the challenging role of enforcing rules and dispensing consequences. Due to both widowhood and divorce, I have trudged the rocky roads of single parenting both young children and teenagers. Financial pressures, shouldering two parents' responsibilities, guilt, regret, trauma, and grief all erode a single parent's consistency.
Will it improve the parent-child relationship for some new adult to be the strong arm of the law, trying to shape up kids they barely know? No, those children need to learn to respect their own parent's authority again. God mandated parents to bring up, nurture, and discipline their own children, and that duty doesn't diminish or disappear when parents decide to add a new marriage to their life.
So, the stepparent gives input and support as the biological parent works to turn around the ship and avoid parenting icebergs. I've seen all kinds of havoc when this principle is not followed. A stepfather backs his teenage stepson up against the wall while the boy threatens to call child protective services. His mom cries and screams for them to stop before she loses both her marriage and her child. Girls become suicidal over the fear of losing their biological parent before trust has been built with the stepparent. Biological moms get depressed, stepdads get resentful, and kids get rebellious.
Rope #5: The rope of hope.
Healthy stepfamilies can provide powerful havens of healing for adults and children alike, if they just don't lose hope amid the storms. At age thirteen, I acquired the ideal stepfather: he made my mom happy, took good care of us, and taught me how to drive and maintain my car. But he never assumed any kind of authoritative role over me. When I was eighteen, he gave me advice for the first time, after five years of building relationship. I listened and kept on listening.
I never called him dad because I still had a dad, but "Pop" became my affectionate term for him. His love, and the home he and my mother created, guided me through ferocious life storms to a safe, peaceful stepfamily harbor. I am forever grateful for my stepfather. As you securely wrap your stepfamily ship with the rope of hope, you too can sail through storms and leave an amazing eternal legacy.